Clothes Dryer Fires in Cleveland Area Are Preventable;
With An estimated 2,900 clothes dryer fires in homes being reported to U.S. fire departments each year and cause an estimated five deaths, 100 injuries, and $35 million in property loss.
Failure to clean the dryer vent was the leading factor contributing to the ignition of clothes dryer fires in residential buildings.
To help prevent a fire in your home one should:
Clean the lint filter before and after each cycle.
Inspect the venting system behind the dryer to ensure it is not damaged, crushed, or restricted.
Outside wall dampers should have a covering that will keep out rain, snow, and dirt. Do not, however, use wire screen or cloth as these can collect
lint and clog areas of the dryer vent.
Make sure the outdoor vent covering opens when the dryer is operating.
Check periodically to make sure nests of small animals and insects are not blocking the outside vent.
The dryer and venting system should be serviced and cleaned periodically by qualified service personnel, especially if it is taking longer than normal for clothes to dry.
Call the vendor listed below for an estimate or price on the cleaning of your dryer vent.
Make the call it could save the life of someone you love. Call now, bye.
Cleveland Dryer Vent cleaning In Cleveland OH
http://AirDuctCleaningClevelandOH.com
https://www.facebook.com/airductcleaningcleveland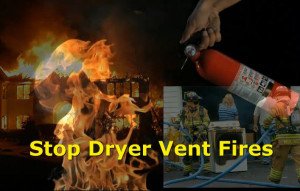 Dryer Vent Cleaning Cleveland Oh
Tagged with: Cleaning • Cleveland dryer vent cleaning • dryer • Dryer Vent cleaning In Cleveland OH • duct • vent
Filed under: Dryer Vent Cleaning
Like this post? Subscribe to my RSS feed and get loads more!